I very rarely take the time to review a product, but today, I'm making an exception to review Sam Ovens' Consulting Accelerator.
This course claims to be the ultimate training for would-be, new, and even experienced consultants. It's a 6-week course that includes action-based homework each week. It costs buyers around $2,000 and perhaps most controversially, includes an action-based refund policy, where customers must complete certain pieces of the training in order to be eligible for a refund.
Like most courses that cost a lot, make big promises, and sell like hotcakes, Consulting Accelerator has it's share of detractors. There are several websites and social media pages dedicated to calling Sam and his training a fraud. At the same time, Sam Ovens has a website with 3,000+ video reviews, the vast majority of which are very positive.
So which is it? Is he legit or a fraud? And perhaps the main question you are wondering… why am I taking the time to review this course?
I took the course myself and want to share the results.
There are people in my audience of writers, marketers & freelancers who have seen Sam's ads on Facebook and would appreciate an honest review.
There are a lot of people in my audience with the goal of being consultants, and those people will absolutely want to hear about my experience.
There aren't many in-depth, balanced reviews available online about this course, so I'd like to fill that gap.
Obviously, if all I wanted to say was "Yes, it's a scam," or "No, it's not a scam," there would be little point in writing out a review. There's a lot of complexity to evaluating a course like this, so here's what we'll be covering:
Breakdown of the good, the bad, and the ugly of everything offered in the course.
Discussion of who the course is intended for and whether it's effective
Account of my personal experience with this course and how it's impacted my business.
Well that's enough of an intro. Let's get started.
What Is Sam Ovens' Consulting Accelerator?
To evaluate whether something delivers on its promises, we have to first discuss the promises. So let's look at what this Consulting Accelerator claims to be.
These next bits are pulled directly from the course landing page, which you can view in it's entirety here (NOT AN AFFILIATE LINK).
How To Start A Wildly Profitable 6-7 Figure Consulting Business & Get Your First High Value Client Within 42 Days
The Consulting Accelerator is a proven and tested 6 week online implementation program which teaches you exactly how to start a wildly profitable 6-7 figure consulting business and get your first client within 42 days.
The information is available online in a content portal and provided via videos and PDF's. You can complete the training in your own time from anywhere in the world and even fit it in around a 9-5 job.
This is not your typical "course". This is a proven implementation program where you follow steps to setup your very own wildly profitable 6-figure consulting business within 6 weeks time.
It doesn't matter if you don't have any tech skills or digital marketing skills, everything you need to know is provided step-by-step in this training program.
In just six weeks here's what you'll get:
Week One -Mastering Your Niche & Offer – How to pick the most profitable market for your services AND the most profitable segment of that market
Week Two – Mastering The Consultation – 

How to conduct the perfect consultation so that you convert your calls at 25% right out of the gates

Week Three – 3 Fast Ways To Get Clients Organically – 3 Proven methods for getting high paying clients as quickly as possible without spending a dime on advertising
Week Four – Setting Up Your Appointment Generating Machine – Full step by step training on how to setup our proven appointment generating machine
Week Five – Creating Successful Facebook Campaigns – Once you've got your appointment generating machine live it's time to start driving traffic into your funnel.
Week Six – Scaling To 6 Figures And Beyond – In Week 6 we already have you setup and making money and now it's time to scale things up to the next level!
Here's A Summary Of Everything You'll Get:
The Consulting Accelerator 6-Week Implementation Program ($3,997)
Access To The Mastermind/Community Of Others Doing This (Lifetime Access) ($1,997 Value)
"That's a total combined value of $5,994. Today you can gain instant access for $1,997 or 4x monthly payments of $597."
Full Money Back Guarantee!
If you do this program you WILL get a high value client worth at least $2,000 /month within 42 days. If you do this program, take the action and DO NOT get a high value client worth at least $2,000 /month then I will give you a full immediate refund, let you keep the course materials AND cut you a personal check for $100 as my way for apologizing for wasting your time.
Consulting Accelerator: The Good, Bad & Ugly
So let's dive into the course, pick it apart, and see what is good, bad and ugly.
I've decided to break down my review into the following sections:
Design & Production
Core Content, Weeks 1-6
Mastermind Community
Customer Support
Here's what you see when you enter the paid area: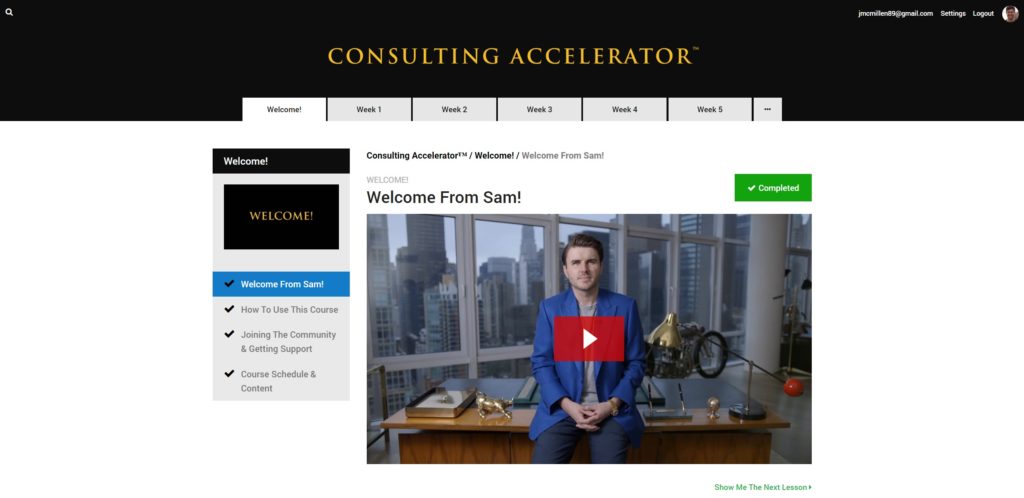 Design & Production Review – Rated A
It's sort of funny, because if you look at Sam's general website or even the landing page I linked to earlier, everything looks really unprofessional. The design is poor. There are numerous misspellings and errors.
But when you get into the course itself, via the above pictured dashboard, everything is crisp, professional, and top of the line. The videos are in HD and Sam's delivery is very clear, articulate and professionally recorded. The copy is clean and bold. The downloads are in neat, simply designed PDFs.
I've taken several courses around this price point (and higher) in the past, and Sam's is one of the best in terms of design, aesthetics, and usability. Obviously, that has nothing to do with the content itself, and when you pay $2,000 for a course, you probably don't care a whole lot about the aesthetics, BUT a lot of courses at similar prices are incredibly ugly, with poorly recorded audio and buggy downloads, so it's nice when everything looks, sounds, and works like it's supposed to.
Core Content Review – Rated by Section
This is the most important part. Does the content deliver?
The core sales process Sam Ovens is teaching looks like this:
Attract your target audience via Facebook Ads
Capture their email via a Lead Magnet
Have them apply for a Consulting Call
Engage, train, and close them in a 1-to-1 Phone Call
That's the core process, and as you can already see, it's nothing ground breaking. Many other people are using this exact same model to sell their products and services.
That said, Sam's training is a lot broader and more complex than these 4 steps. He covers something unique in each of the six modules, with varying degrees of effectiveness. In order to review the content, I'll need to review each week one at a time.
Week One: Mastering Your Niche & Offer
Rated C
This is by far the most generic week of the course. If you've ever taken any course on marketing/consulting/making money or really even just read a decent number of articles, you've seen it all before.
The first topic the course dives into is mindset…. surprise, surprise. "You need to think this way if you want to be successful." It's generic in the sense that you've heard most of it a thousand times before, but as much as it annoys me to listen to this type of content, I know from personal experience that leaving it out can set your students up for failure once they get into the real meat of the training.
For someone brand new to making money online, it does provide a pretty decent foundation, and ironically, I had probably the most important revelation from the entire course during this week – a revelation that completely transformed my business model (I'll share more later in the review).
One of the biggest problems in this section, and probably THE reason some people are upset with the course, is that Sam's definition of "consulting" is incredibly loose.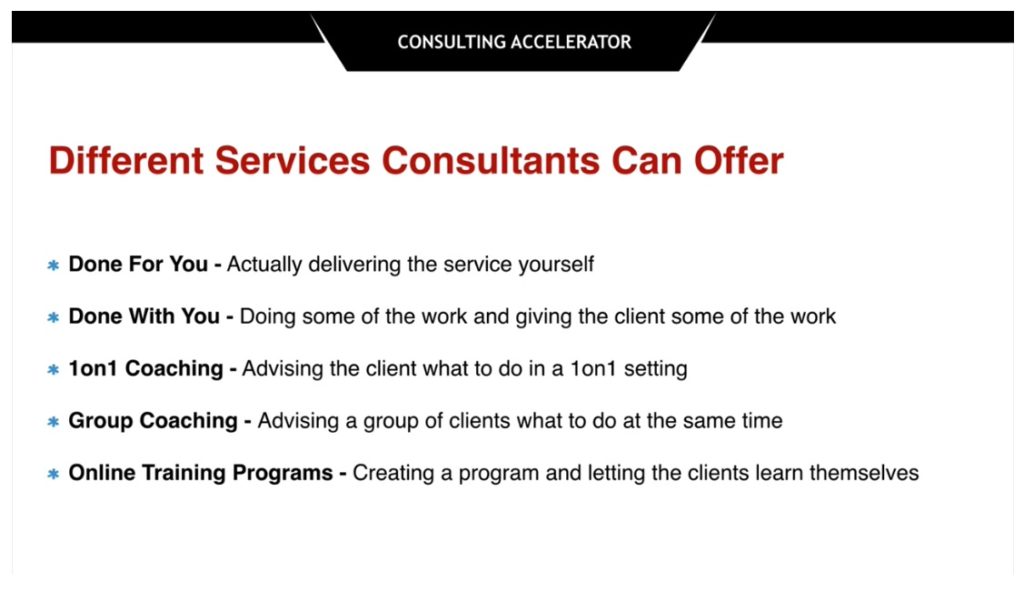 As you can see in the above slide, Sam considers any sort of service business, coaching, or training to fall under the consulting umbrella.
Why is this problematic?
Because that's not what most people think of when you say "consulting" AND Sam doesn't explain or clarify this AT ALL in his advertising or marketing materials. So in essence, you get people coming into the course with a more traditional idea of consulting and the desire to make it happen, and then they are hit with something that more closely resembles your generic internet service training.
That said, Sam's business model can work for a more traditional idea of consulting, and to be honest, given the current market, his model is probably a lot more viable for the average person than the traditional consulting model. Still, it's important that anyone reading this understand that the above descriptions are what Sam Ovens' course defines as "consulting".
Week Two: Sales & Mastering The Consultation
Rated A
Week two is all about sales. Sam opens the week's module by saying that it is the most important module and worth the price of the course by itself.
I've heard that exact statement in countless webinars and courses, and I have to say, this is one of the only times I've ever agreed with it.
PEOPLE SUCK AT SALES!
Seriously. I did a door-to-door sales job for one summer in college, and in addition it paying for my education, it was also the single most valuable thing I've EVER done for my career. There is literally nothing more powerful a freelancer, entrepreneur, marketer, or really any sort of business person can learn.
I've written multiple times on how important it is to master sales, and it was even the #1 recommended skill on our writeup on the most valuable skills for young entrepreneurs.
YOU NEED TO LEARN SALES!
Okay, so that's great, but Sam isn't the only one teaching sales…
Most of Sam's process is pulled from long established sales practices that you can find in many different places. He certainly didn't rewrite the book on direct sales.
BUT here's the deal, people.
Sometimes we get this idea that information being available makes it ours, but that is obviously not the case, or we would know a million times more than we currently know. The way information is presented and applied matters a great deal to whether or not we ever actually benefit from it.
And on that point, Sam Ovens hits the ball out of the park.
His sales training is VERY thorough, with nearly 2 hours of video content, and VERY specific, even to the point of providing you with a 13 page script designed specifically for an effective sales call. Sales is one of my personal areas of expertise, and that's why I can say with certainty that both his script and overall sales training are very good.
Most importantly, it's not just random, standalone tips and strategies that you then need to know how and when to implement. It's presented as part of a broader system, allowing you to immediately take action.
Each of these things I just mentioned are the difference between students walking away clueless and walking away with a business, and that's why I'm giving Sam an "A" on week 2 of his core content.
Week Three: 3 Fast Ways To Get Organic Clients
Rated B
The central promise of Sam Ovens' training is that ANYONE whole follows the steps WILL land at least one $2,000 client within the six weeks they take the course.
This number is chosen for marketing reasons – it's essentially a "make back the money you spent on this course" guarantee.
While Sam's core system revolves around Facebook Ads, he uses week three to help new consultants land their first clients via simpler means, like taking advantage of their immediate network and pursuing softer targets, sending out direct emails, and even mailing people with what he calls "lumpy mail" – big packages designed to provide value and guarantee you stand out.
The purpose of this week is to provide a path of least resistance for new consultants to get a quick win and buy into the system.
I personally have landed four new clients on $2,000 per month contracts since Sam's course shifted the way I packaged my services and approached new clients, so the idea that a trainee could make $2,000 while taking the course is not at all far fetched. That said, I was already fairly established in my business, as opposed to coming into Sam's course as a rookie.
For people just diving into solopreneurship, it's not necessary going to help them jump over those initial hurdles any better than the hundreds of other courses out there.
You're still going to have to bite the bullet, embrace discomfort, pick up the phone, make the call, fail miserably, try again, get better, and so on and so forth.
There's no magic method here, but I do think Sam does a better job than most of helping people wrap their heads around those superficial hurdles. He also does a great job of selling people on how effective the system is once they take action. If you look on the Facebook group wall, you'll see report after report of members landing sales, many of them for the first time. Here's a sample from just the last few days.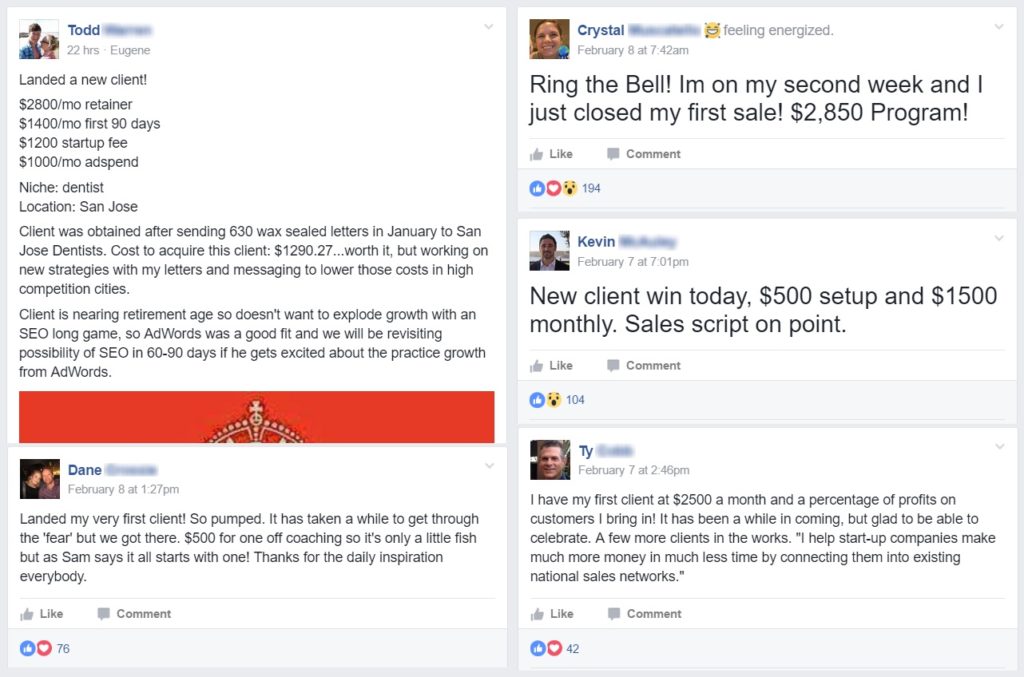 Keep in mind, there are currently well over 5,000 members in this Facebook group, so statistically speaking, even if the training was shit, a decent number of people might still be finding success. That said, I've been in a number of groups like this, and the success reports are a lot more frequent and get a lot more community engagement than any other group I've been a part of.
Week Four: Setting Up A Lead-Gen Machine
Rated B
I would consider the training in week four to be the crux of Sam's system.
Remember that Sam's pitch is that he will help build a six figure consulting business. Up to this point, he has taught students how to develop their mindset, select a niche, present and close sales, and even land a few quick clients, but none of these things constitute an autopilot system for scaling a consulting business into six and seven figures.
Week four is that system.
Sam takes students step-by-step through the process of setting up an appointing generating sales funnel, including:
Creating a video/webinar script
Creating visual slides to accompany the script
Recording and hosting the video
Creating the required landing pages
Testing and publishing
Sam is incredibly thorough throughout this process and there is zero reason anyone should get through this section without a working funnel in place. Everything you need is right there, spelled out in simple language.
This is the point in most people's training where they try to upsell you more shit. They try to get you to buy there "done for you" funnel or pay thousands of dollars to have a custom funnel built for you. Or they have a slate of affiliate products that can do all this for you and they tell you that you absolutely need all this overpriced crap in order to get the real results.
Sam Ovens does none of that, and it's a big part of why I even considered writing this review.
There are no upsells.
There are no affiliate products.
He tells you how to build everything without spending one extra penny, and then for those who are willing to spend some additional money for added convenience, he tells you which products he personally uses to build his own funnels.
I have paid $5,000 in the past for lesser courses that were bursting at the seams with upsells, affiliate offers, and recommended software that turned out to be completely useless.
So I was very pleased with the complete lack of that stuff in Sam Ovens' Consulting Accelerator. You get a very thorough training series with none of the other shit.
Well… if I was this happy with it, why'd I give this section a B rating?
Copywriting.
The training teaches you absolutely nothing about copywriting, which I feel is something of an oversight. On the one hand, Sam gives you his entire script to customize for your own use, but he always encourages students to make their scripts unique without providing any of the copywriting tools for making that happen.
You really need to have some intermediate level copywriting skills in order to customize the script and create your own successful landing pages, and given how thorough the rest of the course is, I was very surprised to see a complete lack of training on writing the copy itself.
On the plus side, there are a lot of free resources available on copywriting, so you won't be at a loss. In fact, here are the main resources I refer to as a fulltime freelance copywriter:
Week Five: Creating Successful Facebook Ads
Rated A
Similar to the sales training in week two, this section could legitimately be it's own separate training, and in hindsight, I would strongly consider paying the full $2,000 course cost solely for this module.
I have not yet setup my own Facebook Ad campaigns in accordance with Sam's training, and I will come back and update this section of the review once I have, but the training itself is 10x more in-depth than anything I've seen before.
This isn't beginner ads training. The ad sequences and retargeting strategies Sam teaches are fairly complex, and he does a tremendous job of taking students screen by screen through every step of the process.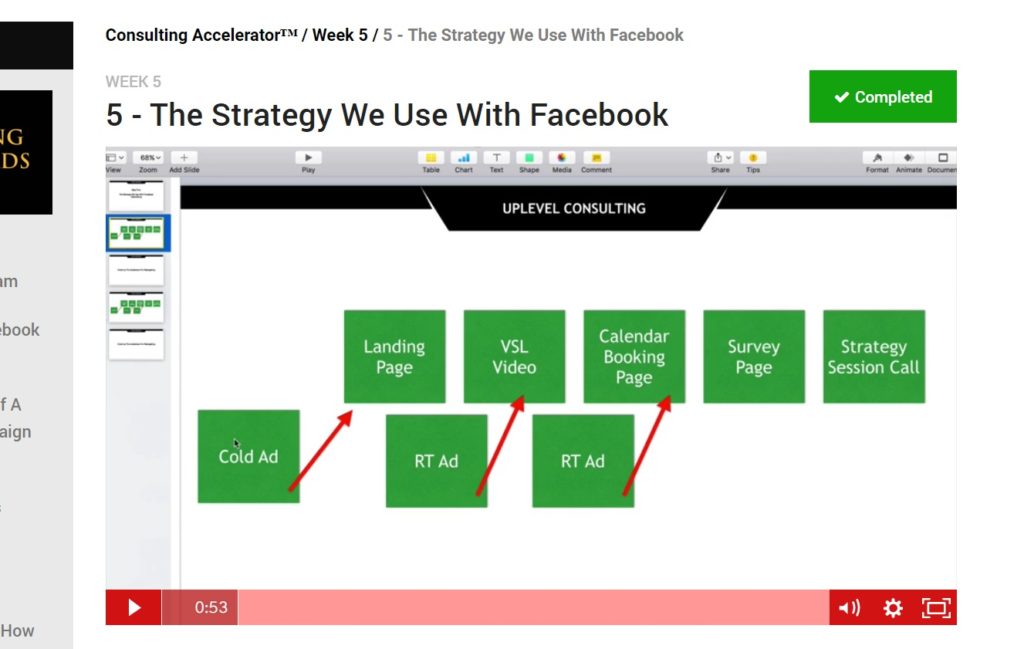 Again, I will update this review once I've run some campaigns myself. I suppose this could be the part where the "Sam Ovens scam" comes into play, but then again, Facebook ads training wasn't even a part of Sam's marketing pitch for this course, and if it's actually good, it's easily worth $2k by itself.
I have run just enough Facebook ads myself to know when a training is superficial shit as opposed to actually useful stuff, and I'm about 90% sure Consulting Accelerator ads training is definitely useful, but I'll let you know when I know for sure.
Week Six: Scaling To 6 Figures And Beyond
Rated C
Week six is the final week in Sam Ovens' Consulting Accelerator course, and its focus is on some practical requirements for scaling a business to six and seven figures.
This week is a bit of a hodgepodge, and it would benefit from a more consistent focus, but it does provide some very useful things for new and even experienced consultants.
Necessary legal documents
How to setup credit card payments
3 strategies for generating referral clients
How to promote and build your platform
How to use marketing automation
How to setup marketing automation
I wrote a book last year on making six figures as a freelance writer, and one of the final sections was on "becoming a player in your niche". This is more or less what week six is all about in Sam's course – building your platform and becoming a well-rounded player in your niche.
To accomplish this, you need to be protected legally, and Sam has had a lawyer create a series of supposedly universal documents that students can use to cover themselves. These include:
Terms Of Service (For Your Website)
Privacy Policy (For Your Website)
Earnings Disclaimer (For Your Website)
Terms & Conditions (For When You Engage Your Client)
Non Disclosure Agreement (If Your Client Requests One)
1 Page Proposal/Scope Of Work Sample (If Your Client Requests One)
Payment Instructions Document
Again, this is with the mindset that you are scaling your business to six figures and beyond and thus, have a continuously increasing need for legal protection. I think it's a good starting point, but really, once you cross that six figure mark, you're going to want to run this type of stuff by your own legal counsel just to be safe (and hire a good accountant as well).
With the credit card and marketing automation stuff, Sam shows students exactly what he does and how they can set it up as well. This isn't advanced stuff. It's pretty simple, but having setup my own automation, I'll say that being able to essentially copy/paste what someone is already doing saves a TON of time and will probably result in a better system at the end. Sam's system is solid and very cost-efficient, so you really can't go wrong.
The referrals section is straightforward, but if you don't already know the three strategies Sam mentions, it's definitely a must-watch for any business.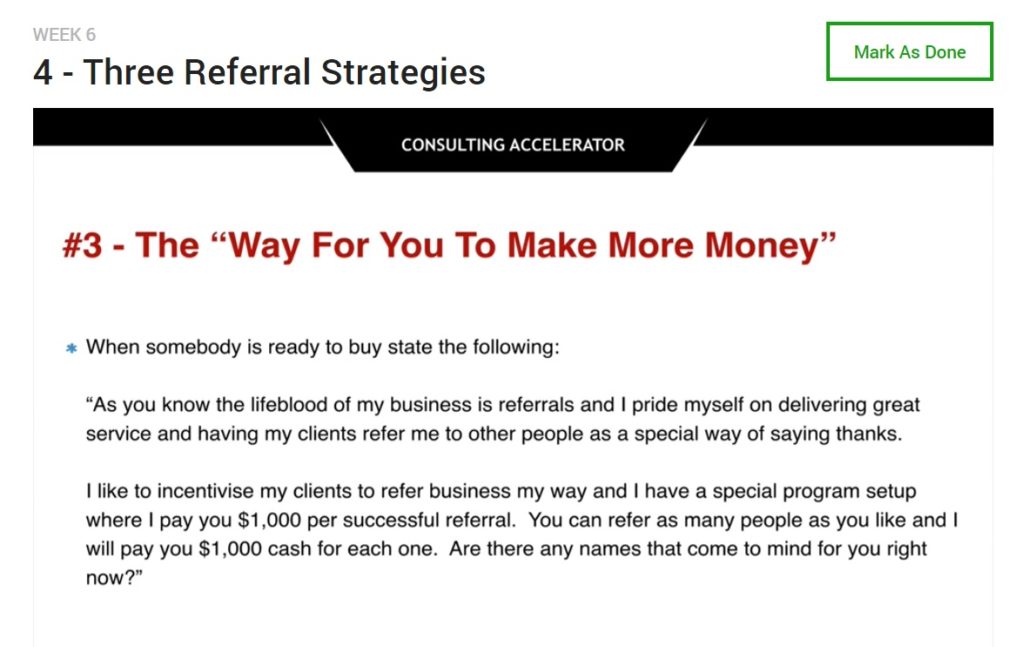 And finally, Sam spends 45 minutes talking about to promote and build your "platform".
Sam's system is essentially a single conversion funnel. You use Facebook ads to drive traffic into the funnel, and consulting clients come out the back end. Building a "platform" around this funnel is really just incorporating other digital marketing strategies to build a brand, establish authority, and grow an audience.
If you aren't very familiar with digital marketing, this will be a great introduction to some key concepts. If you come from the digital marketing world, this will be review with maybe the occasional noteworthy point.
Overall, this section does a decent job of ironing out some practical steps for automated scaling and creating a framework for becoming an authority in your niche. It's nothing revolutionary, but it's not phone-in filler content either.
Facebook Community Review – Rated B+
The last piece to review is the Facebook group new students are added to. Facebook groups have pretty much become standard for anyone selling a course these days, and nine times out of ten, the don't add a whole lot of value to the experience.
In fact, I would rate most groups I've been in a 4/10.
The Facebook group for Consulting Accelerator, however, gets a solid 8/10.
The community is FAR more active than other groups I've been a part of, and Sam's weekly calls are helpful and informative as opposed to the standard "hype calls" dished out in most groups.
It's very rare to see a post go unanswered by the community, despite there being literally 100+ posts in a given week.
The only reason I'm not giving it an "A" is that posts celebrating new clients get a lot more engagement than posts asking questions.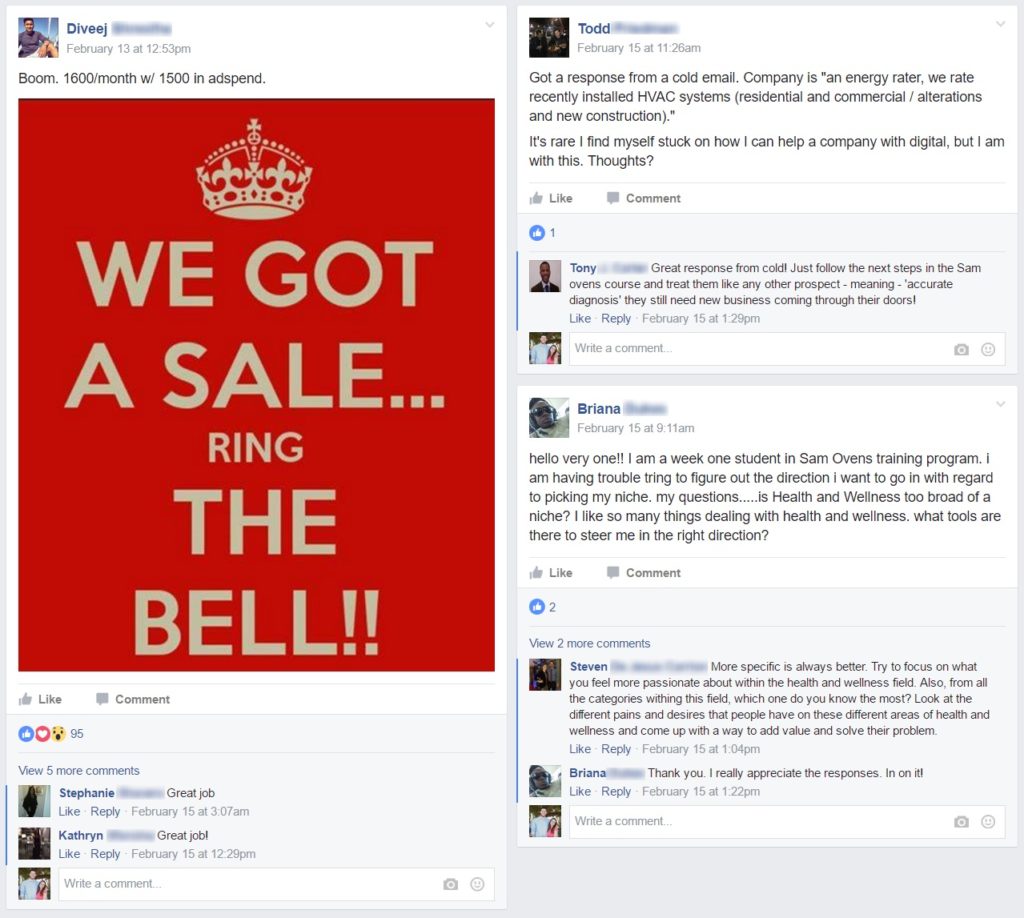 That said, it's very rare to see a question post go unanswered, which is in stark contrast to the majority of groups like this, where getting any response at all is hit or miss. For example, I'm currently paying $30 per month to be in an entrepreneurship group, and my last two questions haven't received a single response.
That's pretty standard, which is why it's pretty phenomenal that Sam's group is significantly more engaged.
And finally, Sam himself regularly participates in the group and answers questions. I just hopped in the group to look up his last response, and as you can see, he's responded to students within the last 30 minutes: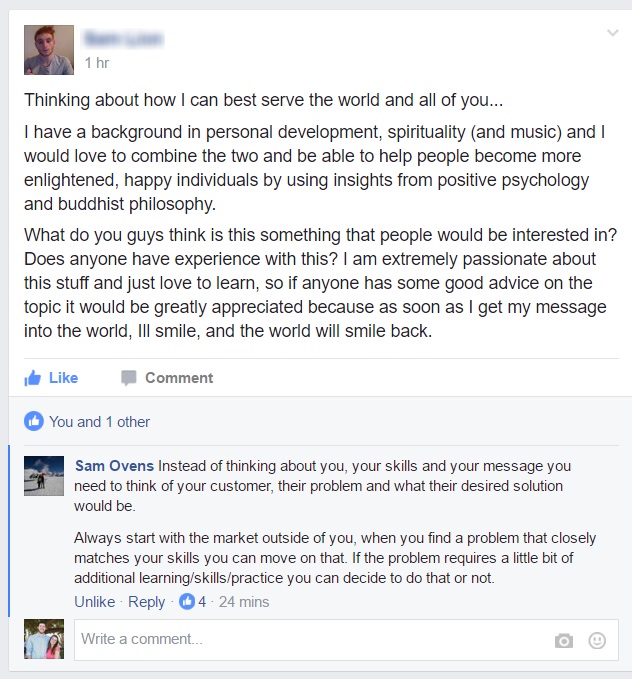 Like most course sellers, Sam likes to say that the community is worth the price alone, and while it's hard to overvalue networking, I really wouldn't go that far. It's a very useful addition to the course, and if you don't have an existing online network, I'd imagine it could be very instrumental in helping you get up and running.
But at the end of the day, there's not really anything intentional about how the community is run. It's more of a "what you make of it" arrangement.
Why I Don't Think Sam Ovens Is A Scam
So now that I've gone through the entire course, let's get back to the original question.
Is Sam Ovens a scam?
Well, obviously, my answer is "No".
But at the same time, it's not for everyone.
Let me explain.
I'd say Consulting Accelerator is easily the best course I've taken on consulting and probably the 2nd best course I've taken overall, out of around 10 total. It is EASILY the best course you can take if you are wanting to start an online business from scratch.
The production is better than 90% of courses I've taken.
The content is better than 80% of courses I've taken.
The Facebook group is THE best group I've been in.
The price is less than 50% of the courses I've taken.
The course has increased my revenue more than any other I've taken.
I spent most of 2016 writing off-and-on blog posts for various clients and doing one-off copywriting projects. I had one client on a monthly contract, but my other recurring clients were more "a la carte" for lack of a better phrase. They would contact me when they wanted to something new, and I'd write it for them.
There was very little consistency. I could make as much as $4,000 in a single week, but I also had a month last year where I only made $4k for the entire month.
After watching the first week of Sam's training, I stopped offering my services "a la carte" and started focusing on monthly packages. I upsold several of my existing clients to these packages and then pitched and landed several additional clients in my network, as well as several new clients from incoming website leads. All told, I have around $15k in monthly contracts in place right now, with new clients coming in every month.
Now, while Sam's course didn't launch my business from scratch, it would be very silly of me to look at my current $15k per month income and think, "Man, $2,000 for that course was not worth it."
In my world, $2k is a relatively small number.
At the same time, with the stage my business is at, a relatively simple piece of advice can result in tens of thousands of dollars in ROI.
I spent $5,000 on a different course last year that hasn't resulted in a single dollar in ROI for me, and you know what? I'm not too worried about it. I met some really cool people with some expertise I plan to pull from in the future, and while I might take it back if I could go back in time, at the end of the day, a $5,000 loss really isn't that bad.
That's not true for everyone. For some people, spending $2k on training feels like a MASSIVE investment, and as a result, they have some crazy expectations for what they'll receive as a result.
This is precisely why Sam Ovens' course is NOT for everyone.
If you don't plan on devoting the next two months to following Sam's system, DON'T buy this course!
If you don't want to get on the phone, this course will NOT work for you.
If you don't have an existing business and you aren't really interested in building one, this course will NOT work for you.
If you don't like sales and you aren't willing to learn how to sell, this course will NOT work for you.
If you prefer to learn theory and experiment constantly instead of following simple directions, this course will NOT work for you.
If you are set on a specific business model that doesn't match Sam's, this course will NOT work for you.
If you are looking for the 4-hour work week, this course will NOT work for you.
This isn't a situation where you drop $2,000 in a slot machine and wake up the next morning with a six figure business. There's a lot of work involved. Yes, you can simply follow Sam's step-by-step instructions, but that's also 40+ hours worth of work, and then you actually have to get on the phone with people again and again and again.
In other words, you still have to run your own business.
That's not for everyone. There are a lot of people in this world built to be employees. They function best when they are showing up, clocking in, and having most of their decisions made for them.
That's okay.
If that's you, Sam Ovens course might feel like a scam. If you are expecting the benefits of entrepreneurship without all the downsides, you might feel scammed.
But for a lot of people, this course isn't a scam. It's the door they've been waiting for into the world of entrepreneurship.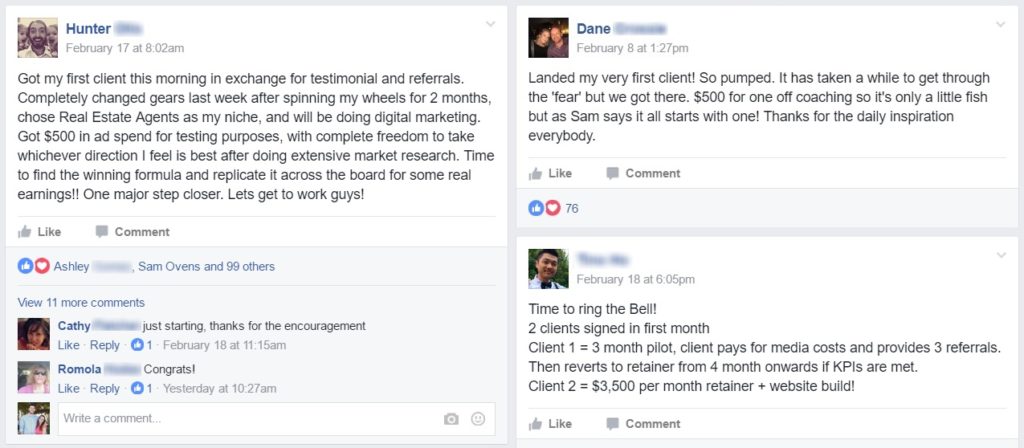 Sam has allegedly created 9 millionaires thanks to his training, and as you can see from the above Facebook posts, a lot of regular people are reaching full-time income and beyond using his methods. As someone who tries really hard to help writers make a decent living, I think it's pretty cool that a lot of people seem to be succeeding with Sam's training.
The question then, is whether or not it's right for YOU. Here's my take:
If you have a service and you need a great method for selling it, this course will benefit you.
If you want an accessible door into the world of consulting, this course will benefit you.
If you are desperate to work from home, and you are willing to work hard and follow directions, this is probably the best course you can take.
If your #1 goal is simply to cross the six figure income mark, this is probably the best method I've come across.
If you don't have any skills but you want to start earning money, you can learn how to outsource work with this course.
And of course, if you are a consultant and you want to reach six figures and beyond, this course will give you everything you need.
Conclusion
It's possible that I'm a bit biased given how much this course has benefited me. My biggest takeaway was learning how to package my services and then upsell my clients, and I've put together a guide to upselling your clients you can read here. It's also possible I'm overestimating how beneficial this course will be to someone who hasn't already spent 5 years on their business.
But overall, I think this course does exactly what it promises and delivers far more value than nearly any other course I've seen.
In short, Sam Ovens's Consulting Accelerator is definitely not a scam, and if you want to build a six figure consulting business, it's probably the best value you'll ever get for $2,000.
That's my take, anyway.
If you have any questions, or if you've taken the course and have your own thoughts to add, feel free to sound off in the comments.
UPDATE: With my review reaching the top result for "Sam Oven's review"  and several other keyphrases in Google, Sam reached out to me about doing some SEO work for him, and he is now a client of mine. The original review has not been materially changed in any way, and given the current conflict of interest, I won't be updating this review in the future as planned. When Sam's new 2.0 course comes out, I will include a link here to a review from someone not working with Sam.
UPDATE: I will not answer questions like "will this course work for ______ product/service?". This course is for people who want to build a consulting businesses. I do not know or care whether it will work for your unique situation that has nothing to do with consulting, so please do not comment or email me asking these types of questions. I will not respond.