It's important to celebrate your wins as a freelancer.
That's why we have something called "Ring The Bell" in our Write Minds community, where any time someone experiences a win, they share it with the group, and we all get excited.
A few weeks back, course student and Write Minds member CJ Haughey posted the following message on our community Slack: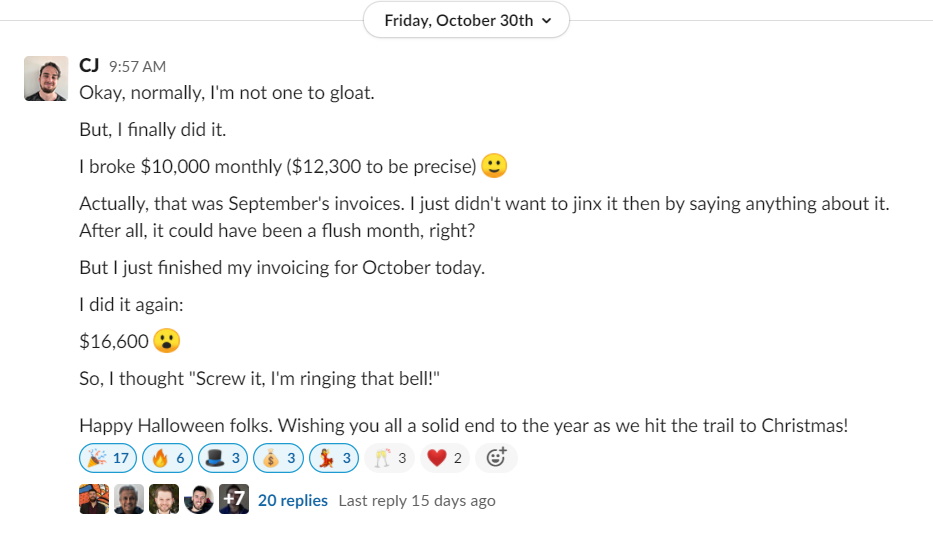 CJ is one of two community members who crossed the $10k milestone for the first time in the last month, and I knew I had to get him on the podcast to talk about his journey and what made the difference in getting him to five figures per month.
In this episode, CJ walks us through his journey over the last 3 years and tells us the specific changes he made to go from casual dabbler to committed freelancer, from sporadic income to a stable $3k per month, and then from $3k per month to more than $10k per month.
Listen To The Recording
Watch The Video
Share Your Thoughts
I hope this was helpful, and I'd love to hear your thoughts on this topic in the comments below.
I'd also love to get your thoughts on the new interview edition. Do you want more 10-15 minute interviews? Or would you prefer if I keep it to just shooting the shit while walking around the neighborhood?
Plus, if you have a question you want answered on a future Write Bites episode, ask in the comments, and I'll add it to the schedule.